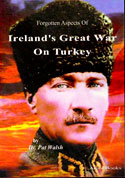 Name: Ireland's Great War On Turkey, 1914 - 24
Subtitle:
Author: Walsh, Pat
Editor:
Category: General
Publisher: Athol Books
Published: 2009
ISBN: 978-085034-121-8
Contents: Ireland's Great War on Turkey is largely a forgotten event in Irish history. That is despite the fact that it was probably the most significant thing Ireland ever did in the world. That war lasted from 1914 until 1924—when the Irish Free State ratified the Treaty of Lausanne and finally, along with the rest of the British Empire, made peace with the Turks. It made the Middle East (including Palestine and Iraq) what it is today, and had the catastrophic effects on the Moslem world that persist to the present.

Ireland's part in the Great War on Turkey was an embarrassment to Republican Ireland and its historians and the details of the War became forgotten. The more recent historians of a revisionist disposition and the Remembrance commemorators have also refrained from remembering it, for other reasons.

This book, the first history of Ireland's War on Turkey, explains why the British Empire really made war on the Ottoman Empire and why Irishmen found themselves part of the invasion force it sent to Gallipoli. It describes the forgotten political and military assault launched on neutral Greece and the devastating effect this ultimately had on the Greek people across the Balkans and Asia Minor. It explains the reasons for the establishment of Palestine and Iraq and why the United States was repelled from the League of Nations by the behaviour of the British Empire in the conquered Ottoman territories after the War.

It concludes on a positive note, describing the great achievement of Ataturk in leading the Turkish nation to independence from the Imperialist Powers. This was an event that Republican Ireland could only marvel at, from the confines of the Treaty and the British Empire—an Empire whose demise Ataturk set in motion through the successful Turkish War of Independence.

540pp. Index.
Extracts: No online extracts at this time.
Errata: No online errata at this time.
Price: £20.00
Postage Option: We are able to deliver free to shipping addresses within the United Kingdom and Ireland. To the rest of the world we deliver by Airmail, for which there is a charge. Please indicate below which postage option you require. Please take your time and be sure to choose the correct option. This will save both time and trouble.
Add To Cart:
View Cart: