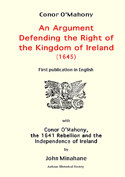 Name: An Argument Defending The Right Of The Kingdom Of Ireland
Subtitle:
Author: O'Mahony, Conor
Editor:
Category: Irish Collection
Publisher: Aubane Historical Society
Published: 2010
ISBN: 978-1-903497-63-0
Contents: "Enthusiastically wishing to help my country and responding to appeals by friends, I have written this vindication of the right of our kingdom, followed by a call to action", Conor O'Mahony wrote in 1645. His Argument Defending the Right of the Kingdom of Ireland, which provoked fierce controversy, was the first book written in favour of Irish independence. It was written in Latin, the main European literary language, and John Minahane has translated it here for the first time. 

O'Mahony, who was from Muskerry, Co. Cork, was educated in Spain and became an important Jesuit intellectual in Portugal.

In his introductory essay John Minahane explores the background and context of O'Mahony's book. He argues that the 1641 rising was essentially an attempt to restore the Gaelic civilisation, which English policy was working to destroy. It is shown that the idea of an effective, though not necessarily formal, independence of Ireland from England was very much in the air. The Irish position was weakened by deep-rooted conflicts, to which O'Mahony's Argument contributed.  His case for complete independence, and rejection of the Stuart monarchy, was violently rejected by the Kilkenny Council and was not supported by Eoghan Ruadh O'Neill, who was implicitly his candidate for king of Ireland. However, O'Mahony's Argument remains the first theoretical statement of the case for Irish independence in modern times.
Extracts: No online extracts available at this time.
Errata: No online errata available at this time.
Price: £18.00
Postage Option: It is not possible for us to trade using only one postage rate. We are able to deliver free to shipping addresses within the United Kingdom and Ireland. To the rest of the world we deliver by Airmail. Please indicate below which postage option you require. Please take your time and be sure to choose the correct option. This will save both time and trouble.
Add To Cart:
View Cart: