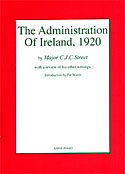 Name: The Administration Of Ireland, 1920
Subtitle:
Author: Street, Major C. J. C.
Editor: Walsh, Pat
Category: Irish Collection
Publisher: Athol Books
Published: 2001
ISBN: 0 85034 089 6
Contents: In 1920 it must have been inconceivable to British governing circles, and British public opinion in general, that Britain could 'lose' Ireland. Large additions had recently been made to the Empire by victory in the Great War. Imperial glory was at its height. And the possibility that the Empire should begin to unravel so close to home was not to be entertained. And so, when England's oldest colony—the other green and pleasant land which had so often been conquered and so often been declared to be irrevocably British?voted to be independent in the 1918 General Election, the British Parliament and Government decided to take no notice of the vote. Major Street was part of the mighty military machine that had just won the greatest war in history and that was now deployed in support of the British Administration of Ireland against the will of the Irish electorate. He had specialised in Intelligence and Propaganda in the World War, and he was now deputed to provide propaganda legitimacy for the Black-and-Tan War. The book he produced is of interest as a coherent statement of the British case, published while the British Government still had the expectation of winning that war. And it has the further interest that Major Street had privileged access to the secret files of the Dublin Castle administration and made informative use of them. The book is thus both itself a historical document and a source of documents not generally available. It is of course written with propaganda 'spin', which the reader will allow for as he sees fit. The "Administration Of Ireland, 1920" is reproduced in full, along with the original Index. But we have not reproduced the green cover embossed with crowned harp in which it first appeared. This is followed by a substantial extract from "Ireland in 1921"—a disillusioned book published in 1922, when Britain had given up the attempt to maintain direct control of Ireland, had negotiated with the 'murderers' as statesmen, and was attempting to keep Ireland within the indirectly-held Empire, the "Commonwealth", as had been done with the South African Boers. Major Street, the intelligent and purposeful Imperialist, let his pain at this "compromising" turn of events be felt. That was at a time when therre was in England an incipient fascist movement, determined to maintain the glory of Empire against the "hidden hand" which was manipulating the "dark forces" of dissolution. A review of Major Street's other books is provided by Brendan Clifford, showing that muc that British propaganda of later times attributed to German Militarism or Fascism was to be found much closer to home. An introduction to the "British Administration Of Ireland, 1920" is provided by Dr. Pat Walsh, author of "Republicanism And Socialism" and "From Civil Rights To National War". 192 pp. (9.5" x 6") Bibliography. Index.
Extracts: No extra online material at this time.
Errata: No errata available at this time.
Price: £15.00
Postage Option: We are able to deliver free to shipping addresses within the United Kingdom and Ireland. To the rest of the world we deliver by Airmail, for which there is a charge. Please indicate below which postage option you require. Please take your time and be sure to choose the correct option. This will save both time and trouble.
Add To Cart:
View Cart: