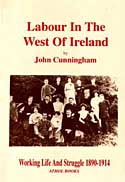 Name: Labour In The West Of Ireland
Subtitle:
Author: Cunningham, John
Editor:
Category: Irish Collection
Publisher: Athol Books
Published: 1995
ISBN: 0 85034 075 6
Contents: Drawing on police intelligence reports, contemporary accounts and government publications, John Cunningham produces a comprehensive and compelling narrative on the condition of labour in the counties of Connacht in the decades before World War I. He examines the working conditions of herdsmen, dressmakers, dock labourers, shop assistants and other groups of workers in the province, before describing their attempts to organise themselves, their strikes and other struggles. John Cunningham uncovers the first faltering political steps of rural and urban labour, detects an emerging class consciousness, and considers the reaction of political and religious establishments to the nascent labour movement. Preface by Alderman Declan Bree, T.D. 208 pp. Illustrations. Bibliography. Index
Extracts: No extra online material at this time.
Errata: No errata available at this time.
Price: £15.00
Postage Option: We are able to deliver free to shipping addresses within the United Kingdom and Ireland. To the rest of the world we deliver by Airmail, for which there is a charge. Please indicate below which postage option you require. Please take your time and be sure to choose the correct option. This will save both time and trouble.
Add To Cart:
View Cart: