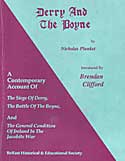 Name: Derry And The Boyne
Subtitle:
Author: Plunket, Nicholas
Editor: Clifford, Brendan
Category: Northern Ireland Collection
Publisher: Belfast Historical & Educational Society
Published: 1990
ISBN: 1 872078 01 X
Contents: This book is made up of a contemporary account of the Siege of Derry and the Battle of the Boyne by an Irish Jacobite soldier, whose name was probably Nicholas Plunket, along with a historical introduction by Brendan Clifford. Catholic Ireland in all its variety - and it had considerable variety within itself in those times - was willing and eager to settle down under the Stuart monarchy. The Old Irish and Old English were in perfect agreement about the legitimacy of the Stuarts as kings of Ireland, and they were especially happy with James II. But twice within half a century - in 1641 and 1688 - rebellions in England disrupted the public life of Ireland, overturned the Irish Constitution, and plunged the country into war. Plunket's narrative begins with the restoration of the Stuart monarchy in 1660, when the first English rebellion had petered out because of its inability to establish a viable state, and it describes in interesting detail the valiant effort made by the Irish to preserve their monarchy in the face of the second English rebellion. Brendan Clifford's Introduction shows what happened in Ireland between 1641 and 1690. It describes the Confederation of Kilkenny; the alliance between Owen Roe O'Neill and the Cromwellians; the emergence of liberal Catholicism; the enthusiasm of the Gaels for James II; the context of European politics, which was dominated by the conflict between Catholic France and the decade prior to 1688; James' attempt to establish freedom of religion; the Revolution; and he compares the extension of the English revolutionary regime to Ireland with the extension of the Russian revolutionary regime to Easter Europe. Here, on the tercentenary of the Battle of the Boyne, is the real story of how it all happened and what it was all about. 132 pp.
Extracts: No extra online material at this time.
Errata: No errata available at this time.
Price: £11.50
Postage Option: We are able to deliver free to shipping addresses within the United Kingdom and Ireland. To the rest of the world we deliver by Airmail, for which there is a charge. Please indicate below which postage option you require. Please take your time and be sure to choose the correct option. This will save both time and trouble.
Add To Cart:
View Cart: