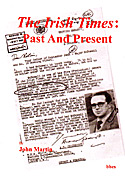 Name: The Irish Times: Past And Present
Subtitle:
Author: Martin, John
Editor:
Category: Irish Collection
Publisher: Belfast Historical & Educational Society
Published: 2008
ISBN: 978-1-872078-13-7
Contents: …a very fine journalist, an excellent man, but on Northern questions a renegade or white nigger".

Those were the words, from a conversation with the British Ambassador to Ireland, at a lunch meeting in 1969, which he duly reported without delay to his masters at the British Foreign Office. But who said them and to whom did they refer?

According to the British Ambassador, it was Major McDowell, the Chief Executive and a Director of The Irish Times who made those comments about Douglas Gageby, the most successful Editor in the history of that newspaper.

This conversation between the British Ambassador and Major McDowell forms the starting point of this book, which is a history of The Irish Times from 1859 to the present day.

A history of The Irish Times cannot avoid also being a history of the Anglo-Irish and their responsse to a number of developments: the rise of Irish nationalism in the nineteenth century; the Treaty; and the consolidation of the Republic in the 26 counties.

100 years after its foundation The Irish Times had reconciled itself to the new Irish State. It appeared that its Anglo-centric view of the Irish nation was moribund. And its new Editor, Douglas Gageby, was intent on rescuing the paper from oblivion by bringing it into the mainstream.

But then war broke out in Northern Ireland in 1969 and all bets were off. A crisis was precipated in Irish nationalism and The Irish Times found a new role for itself, which was not much different from its traditional one. Gageby was ousted, though returning for a time to rescue the paper again from the consequences of its political agenda.

The author lays bare the power structure of the newspaper which insists on transparency and openness for all other institutions in Irish life, but draws a discreet veil over its own activities. The Directors of the paper, along with the Editor, have to swear an Oath of Secrecy before a Commissioner for Oaths each year.

This book is essential for understanding one of the most important institutions in Irish life, and, therefore, the dynamics of Irish society itself.


Extracts: No extra online material at present.
Errata: No online errata at present.
Price: £17.50
Postage Option: We are able to deliver free to shipping addresses within the United Kingdom and Ireland. To the rest of the world we deliver by Airmail, for which there is a charge. Please indicate below which postage option you require. Please take your time and be sure to choose the correct option. This will save both time and trouble.
Add To Cart:
View Cart: