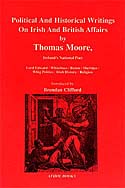 Name: Political And Historical Writings Of Thomas Moore
Subtitle:
Author:
Editor: Clifford, Brendan
Category: Irish Collection
Publisher: Athol Books
Published: 1993
ISBN: 0 85034 067 5
Contents: Thomas Moore, who is now remembered only as the author of Moore's Melodies, was the most influential Irish political writer of the first third of the 19th century. Later generations, saturated with O'Connellite Catholic-nationalism, relegated his prose writings to oblivion—it was beyond their power to do anything about the Melodies?and put about the idea that he was a vain and insubstantial individual, who had succumbed to the flattery of English aristocrats. This selection of his writings shows that to be a travesty. The trouble with Moore is that, while he did not become a tool of English aristocracy, neither did he compromise with the Catholic-nationalism of O'Connell. He was brought up amongst the Dublin United Irishmen of the 1790s, and was a friend of Robert Emmet when O'Connell was a Yeoman, and he kept on writing in the United Irish spirit to the end of his life. In the "Memoirs Of Captain Rock", a fictional biography of a Whiteboy family, he relates the history of Ireland in a way that the most demanding Fenian could not quibble with. The "Life Of Lord Edward Fitzgerald" is an uncompromising justification of the United Irish leader. The "Travels Of An Irish Gentleman In Search Of A Religion" is a riposte against the Protestant propagands of the period by somebody who detested the new, Ultramontanist, tendency in Catholicism. This selection includes substantial extracts from these three books, along with extracts from Moore's "Journal", his "History Of Ireland", and his Lives of "Sheridan" and "Byron". Introduction by Brendan Clifford. 268 pp. Illustrated. Index.
Extracts: No extra online material at this time.
Errata: No errata available at this time.
Price: £18.00
Postage Option: We are able to deliver free to shipping addresses within the United Kingdom and Ireland. To the rest of the world we deliver by Airmail, for which there is a charge. Please indicate below which postage option you require. Please take your time and be sure to choose the correct option. This will save both time and trouble.
Add To Cart:
View Cart: