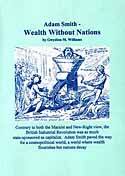 Name: Adam Smith:
Subtitle: - Wealth Without Nations
Author: Williams, Gwydion M.
Editor:
Category: General
Publisher: Athol Books
Published: 2000
ISBN: 0 85034 084 5
Contents: The "Wealth of Nations" (1776) provided the theoretical foundations for a Political Economy of the right, much as "Das Kapital" did for the left. The division of labour, necessity for small government, free trade, and need to promote productive?as opposed to non-productive labour, are ideas supposed to have found their theoretical justification and development in this seminal work. That supposition turns out to be ill-founded. Gwydion Williams has cast a critical eye on this very much unread 'foundation-text' of capitalism. He has found that Smith provided an ideology, rather than a scientific foundation, for British pioneering industrial capitalism. For instance, the well-known descriptive term, "the invisible hand" of the market, is not a worked-out idea of Smith's, but merely a phrase which occurs a couple of times in his work. As for the famous "division of labour", the productive advantages of which are used to justify de-skilling and mindless factory work, Williams finds that Smith's advocacy of it is ill-based. To begin with, what Smith describes is not the division of labour between different trades, but fragmentation of work. And his famous example of pin-making proves the opposite of what Smith intended: it was the pre-industrial State-sponsored bodies that pioneered the making of pins by labour sub-division. And, as Williams points out, the Division of Labour is as old as society itself, was commented on by Plato, and is not a particular feature of Industrial Capitalism. Indeed, the industrialism with which it has become associated can be developed by any social system. Even worse for Smith's case, it emerges that pin-making was a trade which very much developed and prospered under the protection of the State. Britain's economic revolution flourished on the huge profits from systematic capitalist plantation slavery, which financed technological innovation in Britain, as well as on the availability of a destitute workforce, driven from the land by enclosures in Britain?all within a political context where traditional structures had been disrupted by a century of political turmoil. Gwydion Williams writes fluently and in everyday language. His book provides an insight into Smith's political origins as well as a critique of a work which continues to provide ideological cover for market predators.
Extracts: No extra online material at this time.
Errata: No errata available at this time.
Price: £11.50
Postage Option: We are able to deliver free to shipping addresses within the United Kingdom and Ireland. To the rest of the world we deliver by Airmail, for which there is a charge. Please indicate below which postage option you require. Please take your time and be sure to choose the correct option. This will save both time and trouble.
Add To Cart:
View Cart: