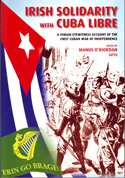 Name: Irish Solidarity with Cuba Libre
Subtitle: A Fenian Eyewitness Account Of The First Cuban War Of Independence
Author: O'Riordan, Manus
Editor:
Category: General
Publisher: SIPTU
Published: 2009
ISBN: 978-0-9555823-1-9
Contents: Midway through Cuba's first War of Independence (1868-78), as war correspondent for the New York Herald, the Fenian leader James J. O'Kelly (1843-1916) brought the Cuban fight for freedom to world attention.

As a contribution towards internationalist solidarity and understanding, this SIPTU publication wishes to commemorate both the centenary of its own foundation in 1909 and the 50th anniversary of the 1959 Cuban Revolution.

Primarily consisting of O'Kelly's own vivid and dramatic eyewitness reports from Cuba, it is introduced by an extensive biographical essay from SIPTU's Head of Research, Manus O'Riordan, in which he details and critically evaluates the lengthy political career of James J. O'Kelly: as Fenian leader, as Home Rule MP, and—above all else—as the foremost 19th century exponent of Irish internationalist solidarity with liberation struggles in both Cuba and Africa.
Extracts: No extracts available at this time.
Errata: No online errata available at this time
Price: £15.00
Postage Option: It is not possible for us to trade using only one postage rate. We are able to deliver free to shipping addresses within the United Kingdom and Ireland. To the rest of the world we deliver by Airmail. Please indicate below which postage option you require. Please take your time and be sure to choose the correct option. This will save both time and trouble.
Add To Cart:
View Cart: