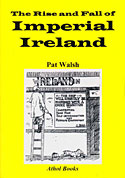 Name: The Rise And Fall Of Imperial Ireland
Subtitle: Redmondism in the context of Britain's Conquest of South Africa and its Great War on Germany, 1899-1916
Author: Walsh, Pat
Editor:
Category: Irish Collection
Publisher: Athol Books
Published: 2003
ISBN: 0 85034 105 1
Contents: Why did Ireland fail to become a partner to Britain in its Empire—like Canada, Australia or conquered South Africa and instead embrace an anti-Imperialist point of view?
At the close of the 19th century, nationalist Ireland was anti-Imperialist. Pat Walsh shows how it was utterly united against Britain's conquest of South Africa.
But, after that, in the face of die-hard opposition to even the mildest expression of Home Rule, John Redmond—the compromise leader of a party re-united after the damaging Parnell split—metamorphosed into a loyal servant of the Crown: he would win Home Rule by showing that Ireland would be an asset to an expanding Empire.
After the Parnell split, Redmond had been the most anti-British of the Parliamentarians. But that was to change. He won the Irish Party to an exclusive relationship with the British Liberal Party, and, as that Party espoused active Imperialism, so did he—with political nationalism in tow.
After the Boers had been defeated, the Liberal Party had, by granting them self rule, won them over to be allies in expanding the Empire in Africa. Redmond saw in this master-stroke the template for the political future of Ireland. Home Rule would be the prelude to the new Imperial Ireland, Britain's junior partner. In 1912 the separatist minority in Ireland was so small as to be irrelevant. That was to change after Ulster Unionists and the British Unionist Party brought the gun into British and Irish politics. Ironically, it was political developments in Britain which conspired to kill off the nascent Irish Imperial development. In 1914—with Home Rule on the Statute Book and the Irish Party vigorously recruiting for Britain?s war on Germany and Turkey—Imperial Ireland looked to be a dead cert. At Easter 1915 the big Volunteer military review in support of the Empire at war was Redmondite. A year later Imperial Ireland was shattered.
Dr. Walsh, using many contemporary sources, shows exactly what happened, and why, in this most readable of histories.
Extracts: No extra online material at this time.
Errata: No errata available at this time.
Price: £33.00
Postage Option: We are able to deliver free to shipping addresses within the United Kingdom and Ireland. To the rest of the world we deliver by Airmail, for which there is a charge. Please indicate below which postage option you require. Please take your time and be sure to choose the correct option. This will save both time and trouble.
Add To Cart:
View Cart: