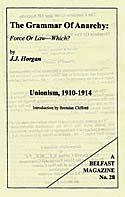 Name: The Grammar Of Anarchy:
Subtitle: Force Or Law—Which?
Author: Horgan, J.J.
Editor: Clifford, Brendan
Category: Irish Collection
Publisher: Athol Books
Published: 2006
ISBN: 1 874157 15 4
Contents: The Grammar Of Anarchy was the final fling of Redmondite Home Rule in the literature of live politics.

It was published during the Conscription crisis of 1918. The copy deposited in the Copyright Library is date-stamped "30 Aug 18".

The author, or compiler, is identified in the first edition only by the initials J.J.H. In the second edition, published late in 1919, he revealed himself as John Joseph Horgan.

Apart from a brief Foreword by Horgan, the pamphlet consists of extracts from speeches made between 1910 and 1914 by members of the Opposition who had become members of the Government during the Great War. It was passed by the Censor, Major Bryan Cooper, who did not feel he could suppress statements made by members of the Government on whose authority he acted. But it was subsequently banned by the Government itself.

J.J. Horgan belonged to the substantial middle class core of the Home Rule Party. His father had been a Parnellite and a personal friend of Parnell. He was himself a loyal supporter of John Redmond, who died in March 1918, shortly before publication of the Grammar.

It must be emphasised that the Grammar was not a Sinn Féin publication.

The Grammar is an anti Sinn Féin publication. It is the swan-song of 'Constitutional nationalism' which, in its dying fall, charges the upholders of the Constitution with having destroyed it.

Its message was that the rise of Sinn Féin was made possible by the conduct of the senior politicians of the British State, which is demonstrated in their own words. That is the message, even though Sinn Féin is not mentioned.
Extracts: No further online material at this time.
Errata: No errata available at this time.
Price: £5.00
Postage Option: We are able to deliver free to shipping addresses within the United Kingdom and Ireland. To the rest of the world we deliver by Airmail, for which there is a charge. Please indicate below which postage option you require. Please take your time and be sure to choose the correct option. This will save both time and trouble.
Add To Cart:
View Cart: