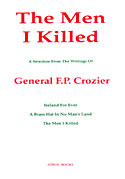 Name: The Men I Killed
Subtitle:
Author: Crozier, General F.P.
Editor: Clifford, Brendan
Category: Irish Collection
Publisher: Athol Books
Published: 2002
ISBN: 0 58034 085 3
Contents: What made Brigadier General Frank Crozier from training the Ulster Volunteer Force in 1912-1914 and comanding the Black and Tan Irish 'policing' operation in 1920-1921 to a pugnacious pacifism in the 1920s and 1930s? That is a question not asked very often in these days of cultivated 'revisionist' amnesia. Coming from an Anglo-Irish military tradition, Crozier fought for King and Empire in the Boer War, in Africa, in Ulster, and in France during the Great War. He was knocked out of his groove?not because he was a sensitive soul, but because his Black and Tans were killing, looting, and generally terrorising Ireland with the approval of his political masters, who thwarted his attempts to discipline the forces under his command. These policies culminated in the burning down of the centre of Cork City (including the Carnegie Library) and an attempt to shift the blame for this atrocity onto the IRA. Crozier was appalled. He saw that this was not the way to hold Ireland but the way to lose it. He resigned his command in protest and sacrificed his military pension. In 1932 when the conflict over De Valera's repudiation of the 1921 Treaty began, he published an account of the Black and Tan war, hoping to improve Britain's conduct by reminding it of its misconduct, and thus to salvage something of the Irish-British connection. In the 1930s he was active in the Peace Pledge Union in Britain, along with people like George Lansbury, the Labour leader, and the Rev. Dick Sheppard. He understood the talk about "defence" to be preparation for another Great War, which he thought would be a disaster. Britain was still 'the' Great Power in those days and he urged it to use its power in another way. And perhaps his views have again become relevant in the present condition of the world. A feature of Crozier's pugnacious pacifism was his very readable autobiographical description of the brutal methods by which wars are won. The book contains selections from four of his books: "Impressions And Recollections", "A Brass Hat In No Man's Land", "Ireland For Ever", and "The Men I Killed".
Extracts: No extra online material at this time.
Errata: No errata available at this time.
Price: £11.50
Postage Option: We are able to deliver free to shipping addresses within the United Kingdom and Ireland. To the rest of the world we deliver by Airmail, for which there is a charge. Please indicate below which postage option you require. Please take your time and be sure to choose the correct option. This will save both time and trouble.
Add To Cart:
View Cart: