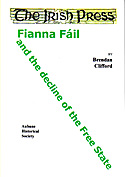 Name: The Irish Press
Subtitle: Fianna Fáil and the decline of the Free State
Author: Clifford, Brendan
Editor:
Category: Irish Collection
Publisher: Aubane Historical Society
Published: 2007
ISBN: 978 1 903497 33 3
Contents: The opponents of the Treaty were utterly defeated in 1923 by the forces of the pro-Treaty party. Yet, within four years, the defeated party was equal in electoral support to the pro-Treaty party and formed the Government of the State five years later.

Effectively, it has remained in power ever since with interludes of coalition governments formed around the pro-Treaty party which has never since won an election in its own right.

This is a phenomenon that needs explaining. It appears to be taken for granted by most historians as if it was all in some way inevitable, even though nothing is inevitable in politics.

This book sets out to explain the crucial elements in the story that saw the formation and emergence of Fianna Fáil and how it first established itself as the major party of the state.

It also looks at the significance of the newspaper it founded, The Irish Press, and its unique contribution to Irish political and social development.
Extracts: No extracts available online at present.
Errata: No errata online at present.
Price: £12.00
Postage Option: We are able to deliver free to shipping addresses within the United Kingdom and Ireland. To the rest of the world we deliver by Airmail, for which there is a charge. Please indicate below which postage option you require. Please take your time and be sure to choose the correct option. This will save both time and trouble.
Add To Cart:
View Cart: