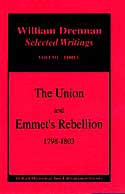 Name: Selected Writings Of William Drennan, Volume Three
Subtitle: The Union and Emmet's Rebellion, 1798-1803
Author: Drennan, William
Editor: Clifford, Brendan
Category: United Irish Collection
Publisher: Belfast Historical & Educational Society
Published: 2002
ISBN: 1 8720078 06 0
Contents: The third volume of William Drennan's "Selected Writings', like the first two, contains a mix of day to day gossip and political commentary. This series might almost be described as a United Irish 'soap'—because the main protagonists in this story, William Drennan and his sister, Martha M'Tier, had both been involved in the ferment surrounding the Rebellion of 1798. This volume picks up the story after the Rebellion, when brother and sister exchange information about what is happening to the rebels, discuss the proposed Act of Union, and are shocked by Emmet's attempt to reverse the Union with Britain (which these days would be called Direct Rule or Integration). Martha is particularly concerned about the fate of Emmet's Northern colleague, Thomas Russell, of whom she is particularly fond. On the personal level, William overcomes every obstacle and finally manages to marry his early love, Sarah Swanwick. And now their children become part of the story? Apart from the sizeable selection of letters, the book contains Drennan's pamphlets protesting against the Union, and his poem, "Glendalloch", which is a poetical review of Irish history. Kenneth Robinson supplies highly informative footnotes and reviews the events of the first three volumes.
Extracts: No extra online material at this time.
Errata: No errata available at this time.
Price: £17.50
Postage Option: We are able to deliver free to shipping addresses within the United Kingdom and Ireland. To the rest of the world we deliver by Airmail, for which there is a charge. Please indicate below which postage option you require. Please take your time and be sure to choose the correct option. This will save both time and trouble.
Add To Cart:
View Cart: