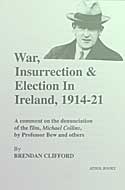 Name: War, Insurrection And Election In Ireland, 1914-21
Subtitle:
Author: Clifford, Brendan
Editor:
Price: £5.00
Postage Option: We are able to deliver free to shipping addresses within the United Kingdom and Ireland. To the rest of the world we deliver by Airmail, for which there is a charge. Please indicate below which postage option you require. Please take your time and be sure to choose the correct option. This will save both time and trouble.
Add To Cart:
View Cart: