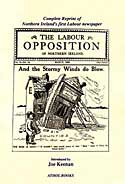 Name: The Labour Opposition Of Northern Ireland
Subtitle:
Author:
Editor: Keenan, Joe
Category: Northern Ireland Collection
Publisher: Athol Books
Published: 1991
ISBN: 0 85034 054 3
Contents: The 17 issues of "The Labour Opposition of Northern Ireland", reproduced here for the first time, originally appeared between March 1925 and June 1926. Published by the North Belfast Branch of the Independent Labour Party, it sought to define the terms of engagement for conflict between the newly-formed Northern Ireland Labour Party and the Unionist Government of the newly created state of Northern Ireland. The range of issues covered is vast?unemployment and the operation of the Poor Law, Women's Rights, municipal affairs, the state of industry and agriculture, the need for nationalisation, parliamentary and council reports, the proceeding organisation and affairs of the NILP, and much more; all the theory and practice of Socialism is here. And all said, as the editor, Hugh Gemmell, insisted it should be, with a kick! Every significant name in the history of the Belfast Labour Movement in the first half of the century is to be found arguing and declaiming in these pages: Harry Midgley, Sam Kyle, Ida Boyd, Bob M'Clung, Tommy Geehan, the inimitable "Slumdom Jack" McMullan, and many others. Joe Keenan's introduction sets The Labour Opposition in the context of its inevitable failure. Having been generated as part of the British Labour movement, and having contemplated the prospect of functioning in Home Rule Ireland, it suddenly found itself within the novel Constitutional and political entity called "Northern Ireland"—an unanticipated form of state, without tradition to sustain it or clear perspective to guide it. The Labour Opposition displayed great vigour and spirit in its efforts to cope with this new confusion of circumstances. But, in the end, circumstances got the better of it. Circumstances have changed a little. And some of us may feel we are a bit wiser than they were. But what those socialists who produced The Labour Opposition had in abundance—the vigour, the spirit, the belief in socialist possibility—is sadly lacking in the smarter but more cynical attitude of the present day. The Labour Opposition of the twenties failed in the most glorious spirit. It failed with a kick, and this record of its failing remains to kick-start the Labour Opposition of today. 212 pp. Illustrated. Index.
Extracts: No extra online material at this time.
Errata: No errata available at this time.
Price: £15.00
Postage Option: We are able to deliver free to shipping addresses within the United Kingdom and Ireland. To the rest of the world we deliver by Airmail, for which there is a charge. Please indicate below which postage option you require. Please take your time and be sure to choose the correct option. This will save both time and trouble.
Add To Cart:
View Cart: