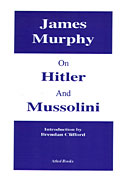 Name: On Hitler And Mussolini
Subtitle:
Author: Murphy, James
Editor: Clifford, Brendan
Category: German-Irish Collection
Publisher: Athol Books
Published: 2002
ISBN: 0 58034 087 10
Contents: The collection of writings by James Murphy (1880-1946) reprinted here has the general aim of explaining the emergence of Fascism in Europe in the 1920s and 1930s as a historical phenomenon arising out of the elemental consequences of the First World War. Murphy, an ordained priest who dropped out of clerical practice, was closely involved with the Italian situation during the war and for some years afterwards. He then moved to Germany, where he was on familiar terms with Einstein, Schrodinger and Max Planck. He was thus exceptionally qualified to comment on the affairs of both countries. As well as providing background information to facilitate the reader in following these Italian and German events, Brendan Clifford, in an extensive introduction, reviews modern Germany's difficulties in coming to terms with the aftermath of war. Particular attention is paid to the furore around the speech to the Bundestag by Speaker Phillip Jenninger on the 50th anniversary of Kristallnacht. An appendix on The Jewish Problem in interwar eastern Europe completes this collection. Athol Books has already re-published the "International Forum", the star-studded magazine Murphy produced in Berlin in 1931. The present volume will further enhance the reputation of a remarkable European, who seemed equally at home in the worlds of philosophy, literature, abstruse physics, and practical politics.
Extracts: No extra online material at this time.
Errata: No errata available at this time.
Price: £18.00
Postage Option: We are able to deliver free to shipping addresses within the United Kingdom and Ireland. To the rest of the world we deliver by Airmail, for which there is a charge. Please indicate below which postage option you require. Please take your time and be sure to choose the correct option. This will save both time and trouble.
Add To Cart:
View Cart: