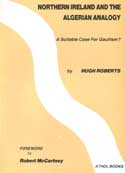 Name: Northern Ireland And The Algerian Analogy
Subtitle: A Suitable Case For Gaullism?
Author: Roberts, Hugh
Editor:
Category: Northern Ireland Collection
Publisher: Athol Books
Published: 1986
ISBN: 0 85034 031 4
Contents: The assumption that the Ulster Protestants are a privileged and reactionary colonial caste, comparable with the Europeans in Algeria, is widespread within the English liberal and left intelligentsia, and has exercised an influence on Government policy towards the province since 1968. An analogy between the Unions and the "colons" in Algeria is frequently alluded to, if rarely argued explicitly. In this book, Hugh Roberts, who has devoted the last 13 years to a specialist study of Algeria, subjects these assumptions to detailed scrutiny and devastating criticism. The idea that the British Government has only to take on the Unionists as De Gaulle took on the "colons" was central to the strategic conception underlying the Anglo-Irish Agreement. Hugh Roberts shows that this idea rests on a basic historical ignorance of both Algeria and Ireland, even when it is expounded by such an eminent academic as R. W. Johnson, and that the political strategy derived from it is a practical impossibility. At a time when that bungled piece of colonialist engineering, the Hillsborough Agreement, is visibly collapsing, Hugh Roberts' analysis provides an indispensable key to the Northern Ireland problem, and a long overdue refutation of the tacitly racist stereotype of the Ulster Protestants which is current in the English press and Universities. 72 pp.
Extracts: No extra online material at this time.
Errata: No errata available at this time.
Price: £8.00
Postage Option: We are able to deliver free to shipping addresses within the United Kingdom and Ireland. To the rest of the world we deliver by Airmail, for which there is a charge. Please indicate below which postage option you require. Please take your time and be sure to choose the correct option. This will save both time and trouble.
Add To Cart:
View Cart: