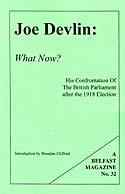 Name: Joe Devlin: What Now?
Subtitle: His Confrontation Of The British Parliament after the 1918 Election
Author:
Editor: Clifford, Brendan
Category: Irish Collection
Publisher: Athol Books
Published: 2007
ISBN: 978 1 874158 19 6
Contents: Joseph Devlin, Member of Parliament for West Belfast, was one of the triumvirate of Irish Home Rule leaders from the beginning of the 20th century until 1918; the other two were John Redmond and John Dillon. Redmond was the nominal leader of the Party—the Chairman. Dillon was the guardian of its ideology. Devlin was the creator and leader of the body which gave at least a sembalnce of internal political or spiritual life to the Party which dominated the Irish electoral scene but refused to take part in the Government of the state—the Ancient Order of Hibernians.

This booklet consists of an Introduction by Brendan Clifford, Devlin's speech in the House of Commons following the general election of 1918, a short chapter on The Grammar Of Anarchy, some material of Devlin's Election Campaign Against Sinn Féin in 1918 and a chapter on William O'Brien.
Extracts: No online material available at this time.
Errata: No errata available at this time.
Price: £5.00
Postage Option: We are able to deliver free to shipping addresses within the United Kingdom and Ireland. To the rest of the world we deliver by Airmail, for which there is a charge. Please indicate below which postage option you require. Please take your time and be sure to choose the correct option. This will save both time and trouble.
Add To Cart:
View Cart: