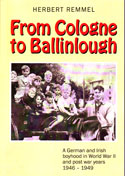 Name: From Cologne To Ballinlough
Subtitle: A German and Irish boyhood in World War II and post war years, 1946 - 49
Author: Remmel, Herbert
Editor:
Category: German-Irish Collection
Publisher: Aubane Historical Society
Published: 2009
ISBN:
Contents: This refreshingly unusual book is mainly about rural Ireland in the 1940s and it is full of fun, enjoyment, insights and sheer delight in everything about that society. It describes everything that the current literary establishment refuses to admit existed in that place at that time. But this author has no axe to grind, no agenda to follow.

Herbert Remmel's objectivity derives from the fact that he was an outsider who found himself in the middle of the society and writes atraightforwardly about what he experienced and the impressions made on him, and writes with great talent for vividly painting a variety of people and situations in a few sentences.

Herbert Remmel was one of the German children who was brought to Ireland after World War II by the Red Cross. His book begins with wartime life in Cologne and there is a graphic description of War and everyday life in a suburb of Cologne and further afield as experienced by a small child, his family and neighbours.

The rest of his book is a child's eye view of Ireland as he found it just after the War, and as such is a joy to read and a welcome release from current dogmas about the awfulness of life in rural Ireland then and since. It makes one want to invite more Germans here to spend some time and write about us because to paraphrase Kipling they would hopefully, like Herbert Remmel, come to know the real Ireland so well because they more than Ireland know.
Extracts: No online extracts are available at this time.
Errata: No online errata available at this time.
Price: £15.00
Postage Option: It is not possible for us to trade using only one postage rate. We are able to deliver free to shipping addresses within the United Kingdom and Ireland. To the rest of the world we deliver by Airmail. Please indicate below which postage option you require. Please take your time and be sure to choose the correct option. This will save both time and trouble.
Add To Cart:
View Cart: