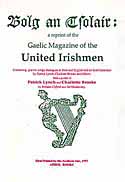 Name: Bolg An Tsolair/Gaelic Magazine, 1795
Subtitle:
Author:
Editor: Clifford, Brendan and Muldowney, Pat
Category: Gaelic Collection
Publisher: Athol Books
Published: 1999
ISBN: 0 85034 083 7
Contents: This is two books in one. Book One comprises a "Gaelic Magazine, Bolg An Tsolair", published in 1795. Only one issue was produced. The Editor was Patrick Lynch, who taught Irish to Thomas Russell and other Belfast reformers. He put together an interesting magazine. Apart from an Irish Grammar, there are some fascinating Dialogues, in Irish and English, more rooted in the life of the country than such texts usually are. To fill out the magazine, Lynch included some Gaelic poetry which had been collected and translated by Charlotte Brooke. Again these appear in Irish and English—and the translations are surprisingly good. Book Two offers a biographical profile of Patrick Lynch and Charlotte Brooke, who in their different ways represented two aspects of Ireland as it then was. (Charlotte Brooke's family were cousins to the Brookes of Brookeborough.) As there is little information about Charlotte, the authors reconstruct her world, the two guiding stars of which are Henry Brooke, the litterateur, and William Law, a writer of theological/philosophical works as well as devotional ones which were fundamentally at variance with the tendency of English Christianity. The combination of these very different influences served to produce a very unusual lady who became absorbed by the lusciousness of Gaelic culture. 248 pp. Bibliography. Index.
Extracts: No extra online material at this time.
Errata: No errata available at this time.
Price: £17.50
Postage Option: We are able to deliver free to shipping addresses within the United Kingdom and Ireland. To the rest of the world we deliver by Airmail, for which there is a charge. Please indicate below which postage option you require. Please take your time and be sure to choose the correct option. This will save both time and trouble.
Add To Cart:
View Cart: